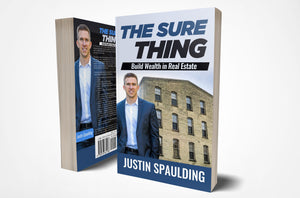 Justin Spaulding
The Sure Thing - Build Wealth in Real Estate (Book)
Sale price Price $36.00 Regular price Unit price / per
In "The Sure Thing" Justin Spaulding shares his real estate investing journey and his exact, step by step process, that took him from zero to $53,000,000 of real estate holdings in seven years before turning 30 years old. 
This book is about investing in cash flow producing real estate and focuses on how individuals can invest, have renters pay the expenses and mortgage, while consistently collecting monthly distribution checks. Other topics covered: financing, use of private equity, general business knowledge, negotiation, revenue and profit projections, and more. 
The stories and step by step process can be read in less than half a day. Within the book you will learn: 
How to position yourself to buy cash flow producing real estate.

 

How to buy your first deal.

 
What to look for in a property.

 

How to find and unlock opportunity and a property's full potential.

 

How to underwrite, evaluate and create projections for your deal.

 

How to drive net operating income and the effect cap rates have on the property's evaluation.

 

How debt, investors, and amortization can exponentially multiply your returns.

 
T

hese stories and processes are what Justin has done today, not what someone did 20+ years ago – this is relevant for the present and future time.

 

How Justin created other streams of income by starting a property management company and a private equity company to manage and purchase his real estate holdings.

 

The impact cash flow, leverage, other people's money, and amortization can have on an individual's net worth over time.

 

How to use seller financing and get paid to purchase a cash flow producing property.
The stories, lessons, and processes in this book are not theory. They are tried and true, and practical for those looking to grow their real estate portfolio and business knowledge. 
DUE TO THE DELAY IN PRINTING (COVID-19) THE BOOK NOW INCLUDES TWO BONUS CHAPTERS ON HOW JUSTIN'S ESSENTIAL BUSINESSES OPERATED THROUGH COVID-19 AND THE PROCESS OF STARTING UP HIS PAINTING DIVISION DURING COVID-19.