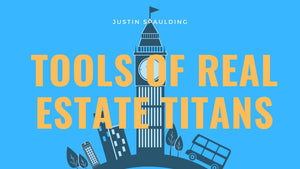 Justin Spaulding
Tools of Real Estate Titans
Sale price Price $329.00 Regular price Unit price / per
As a professional real estate investor, I use these tools for every single deal. From the first $200,000 deal all the way up to an $18,000,000+ deal. The tools are used not just in one phase of real estate investing, but throughout all phases of evaluating, negotiating, financing, operating, managing and selling investment real estate. By putting these tools to work, they have allowed me to make the choices to buy, sell, raise money from investors. These tools have had cash in the 9 figures run through them. The tools have not only helped me buy the right deals, they have helped me not buy the wrong deals.
Real Estate Proforma Spreadsheets (basic & advanced):
Both proforma's allow you to choose whether you want to go a more advanced route for more complicated deals or if you are working on a smaller deal or a first deal you can use the basic proforma. These tools allow you to project the current and future valuation of a deal to know what you should be paying for it today, how much cash it will through of each year you hold and how much you should be able to sell the asset for.
Business Plan Template:
The Business Plan Template allows you to package the info you have gathered on the property, including the data from the real estate proforma spreadsheets to then take it to banks so you can land financing. This helps you look organized and like a professional so that banks will want to work with you.
Investor Packet Template:
This template helps you package the investment offering so that you can send it off to investors to then have them write you equity checks or hard money checks for your real estate deals.
List of Offer Contingencies:
This tool helps to make sure you think of things you need to include in the offer so that you do have an out of a deal and can still get your earnest money back IF you find out that something was not portrayed to you correctly by the seller before. This also shows what financial and property information you should require/ask the seller to give you as a part of your due diligence in the acquisition process.
Real Estate Chart of Accounts:
Once you own the property this chart of accounts helps you organize your income and expenses in a way that will allow you to look back as an investor and be able to make the correct choices going forward to them make your properties more efficient, which means you will have more cashflow and your properties will become worth more because of that increased cashflow.
Tenant Introduction & Info Sheet:
Once you close a deal you have to notify your tenants, this template helps include things that make them feel comfortable through a transition.